Batch of Rye Beef Jerky - Chipotle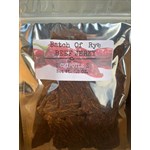 Category: Prepared Foods
SPICY SCALE (1-5): 1
Chipotle is very mild in heat with great smokey chipotle flavors you can enjoy!
Our jerky is a traditional dry cowboy-cut that's made fresh daily with USDA approved beef and hand-cut to ensure quality.
No sugars, preservatives & nitrates.
Rye Grain FREE.
Keto-friendly
Contains:Soy and Fish(Anchovies).
Tags
Grain Free
Local
Nitrate Free
Non-GMO
Sugar Free
Wheat Free
Available At These Locations
Purchase
0 % Grocery items